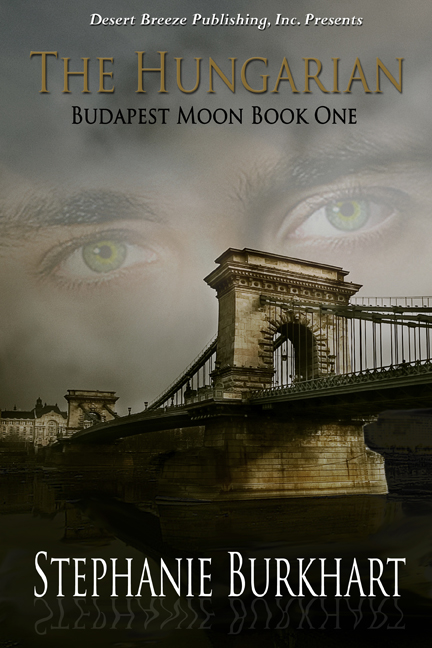 The Hungarian
Budapest Moon Series (Book One)
by
Stephanie Burkhart
Genre
: Historical Paranormal Romance
Publisher
:
Desert Breeze Publishing, Inc.
Price
: $5.99 (Kindle edition)
What I Liked
:
I appreciated the newness of the setting. Haven't read many historicals set in Hungary. As it happens, I do love a unique historical. And I think this one was.
And, of course, I happened to have just seen
The Wolfman
and loved it. Slightly different time period, slightly different plot, but very similar in a lot of good ways. In fact, after awhile of reading
The Hungarian
, I pulled out my soundtrack from the
Wolfman
and listened as I went along. Like I said, the plot is different, but I think if you enjoyed the
Wolfman
movie, you'll enjoy
The Hungarian
as well.
The hero, Matthias (great name, btw), is a Hungarian count turned werewolf, with a past. And Kate falls in love as much with the mystery of him as his alpha-ness. I appreciated that. I thought the conflict was well-done and interesting. And I actually liked Count Varga, the "villain", who apparently will have his own book coming out in February of 2011. I think that will prove to be another good book. The characters are unique in this book, which promises good things in the series to come. I hope that she'll continue to have the settings be unique and off-the-beaten-path, as well. That was, by far, my favorite part of this book.
Overall, a great historical paranormal read. Worth the time and money to pick it up if this is your arena.
Book Blurb
:
Katherine Archibald is in search of a grand adventure. A young woman in late Victorian England, she wants to open up a book store in London and travel Europe hunting down rare books. Love isn't on her map.
Enter Matthias Duma. The Hungarian count captures Katherine's attention like no other man before him with his unusual gold-malachite eyes, his exotic features, and his command of the night sky.
After a night of intrigue during Katherine's birthday, she discovers the map does include love in the legend, but will the map lead her to Budapest and the dark, brooding Hungarian she's just met?